Sugar Free Vanilla Cheesecake Recipe (made in the air fryer)
We just made the easiest sugar free vanilla cheesecake recipe in the air fryer! It only takes about 5 minutes to mix it all together and about 40 minutes to bake it!
This is an excellent recipe if you are trying to cut out sugar all together. It gives you a sweet treat without all the negative sugar affects if you have diabetes or blood sugar issues.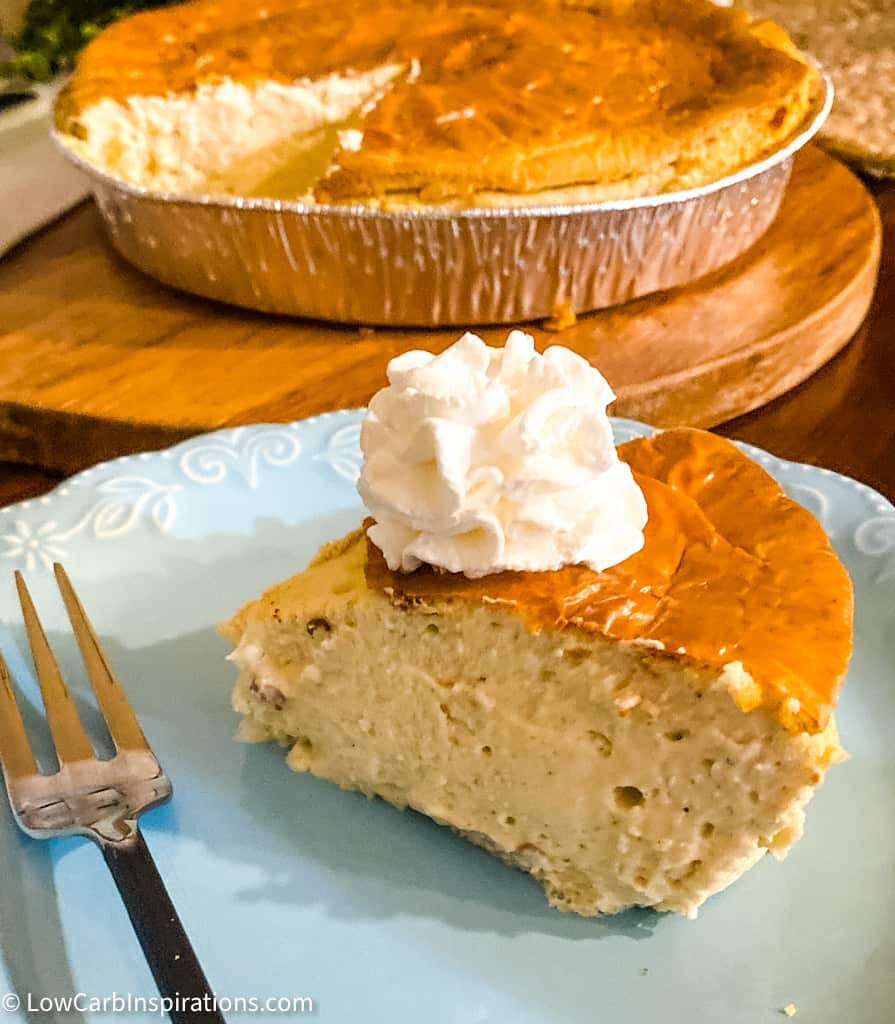 How to Prepare
The hardest part you need to remember to prepare to make this cheesecake is to take out the cream cheese from the refrigerator with enough time for it to get to room temperature before you start making this recipe.
The cream cheese must be completely soft for it to mix well enough to form a rich and creamy batter.
If you forget to take out the cream cheese to get it to room temperature, there is a hack. It's not 100% fail proof though. It will mix way better than cold cream cheese but you may still have some lumps of cream cheese that won't mix properly.
The hack is to microwave the cream cheese (without the aluminum foil wrapper) for about 30 to 40 seconds to soften it ahead of time. Careful though… the cream cheese tends to pop in the microwave when it's heating. This hack works though if you find yourself in a bind. I would much rather heat the cream cheese than use it cold.
The last part that takes time is waiting for this keto friendly and low carb vanilla cheesecake to firm up in the refrigerator after it's done baking.
This is an easy recipe but it does take a bit of planning the time to prepare it.
Ingredients Needed to Make this Keto Friendly Cheesecake recipe:
24 ounces (or 3 – 8 oz blocks)  cream cheese, room temp
3 eggs
1 1/4 cup Swerve Sweetener, powdered (or your favorite sugar substitute)
1 tbs vanilla extract
1 tsp lemon juice
2 tsp ground vanilla bean powder
Nutrition Facts for this Low Carb Cheesecake recipe:
Serving: 1slice | Calories: 255 | Carbohydrates: 4g | Protein: 5g | Fat: 24g | Sodium: 200mg | Fiber: 1g | Sugar: 3g | Net Carbs: 4g
Equipment Needed:
Air Fryer
8.5 inch aluminum round baking pan
Hand mixer
large bowl
spoon or spatula
non stick cooking spray
How to Make the Cheesecake Batter:
In a large mixing bowl add softened cream cheese and eggs and blend until smooth.
Add in the unsweetened Greek yogurt and blend again.
Add swerve (or your favorite sugar substitute) sifting in slowly as you blend together.
Add lemon juice, vanilla extract and the vanilla powder and finish blending until smooth.
Spray the 8 1/2 inch aluminum disposable pan with nonstick cooking spray.
Pour mixture into the pan a that will fit in your large air fryer basket. Pour batter into the pan.
Bake 325 degrees uncovered for 40 minutes or just until the top is slightly browned and the cheesecake has cooked through. Allow it to sit in the air fryer pan until it's cool enough to remove it. The trick to moving it out of the air fryer pan without cracking it is the grab the pan at the side opposite of the air fryer handle and tilt the air fryer basket over as you are removing the pan so the cheesecake just slides out of the basket.
Once done pull out let cool then place in refrigerator to chill for at least 4 to 5 hours before serving.  This allows the cheesecake to settle and firm up.
Optional: Top it with your favorite blueberry sauce recipe or fresh strawberries!
Photos Showing How We Make This Cheesecake Recipe:
This is what the cheesecake looks like right before you bake it in the air fryer.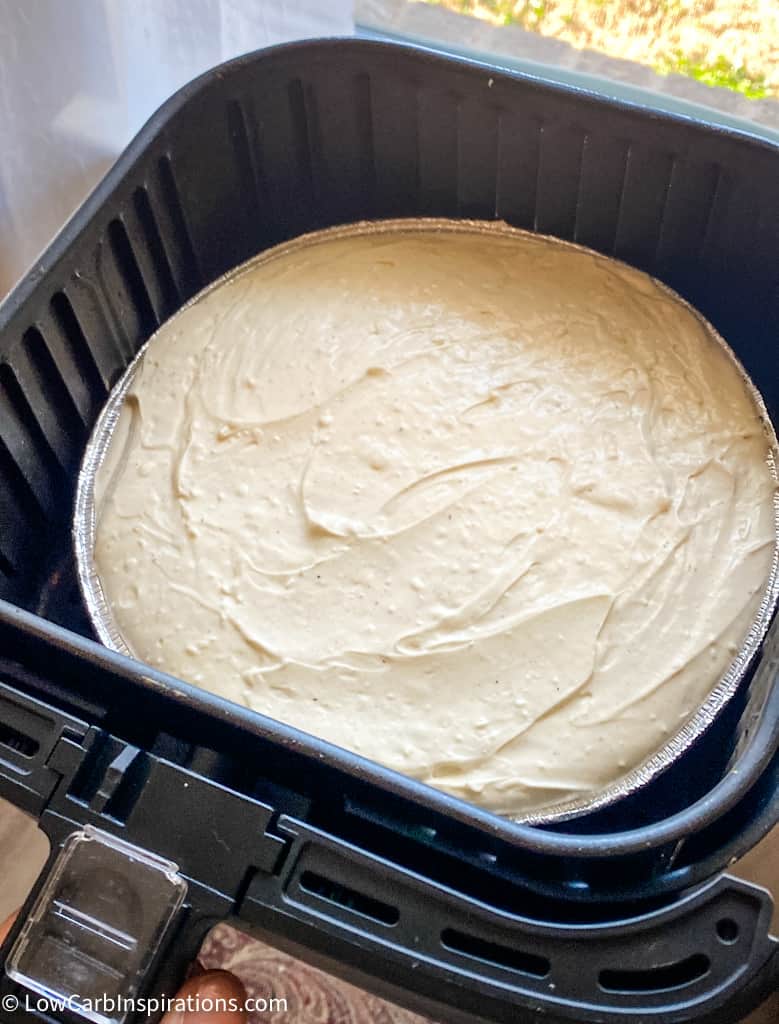 The cheesecake will have a nice golden brown crust on top after it's finished baking!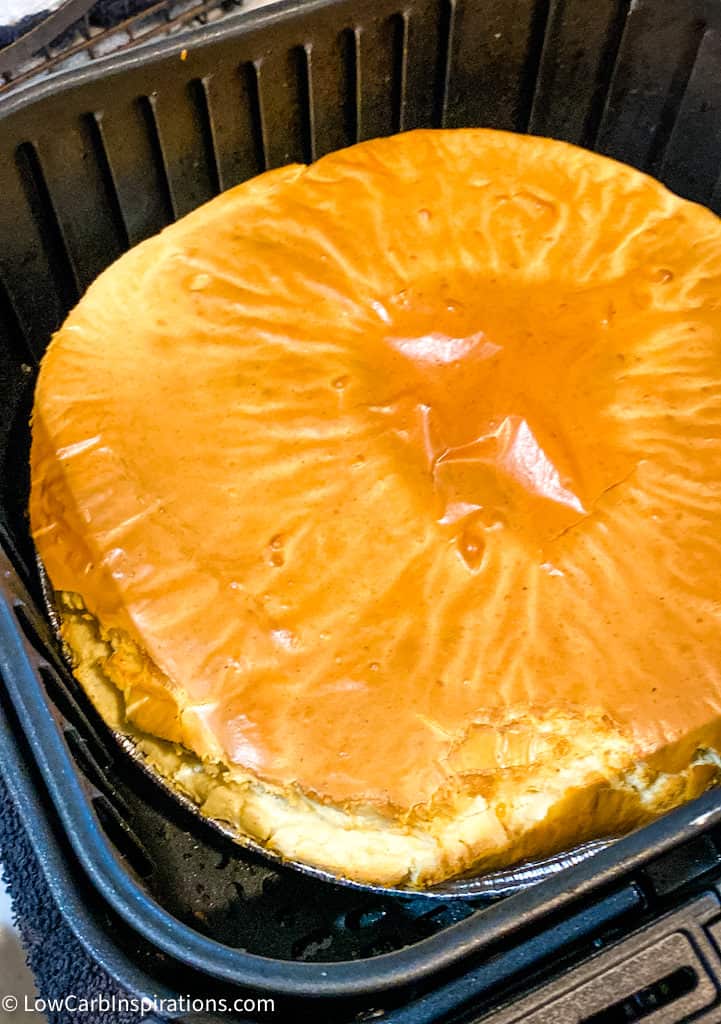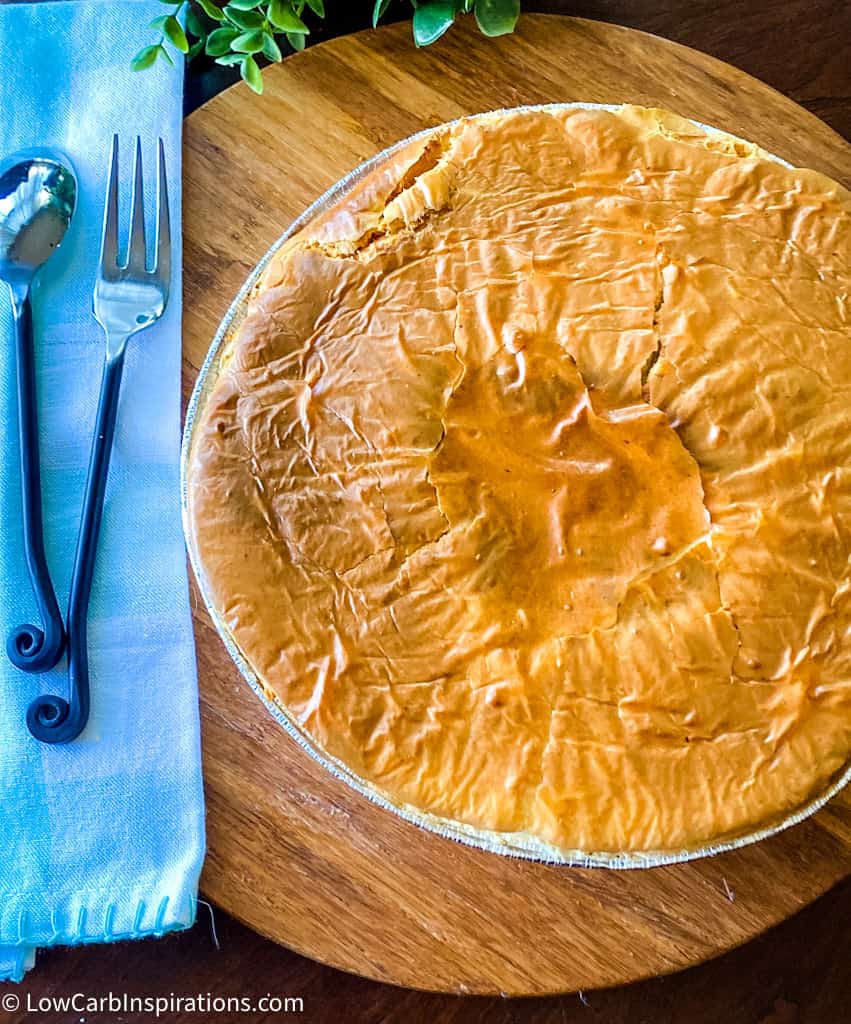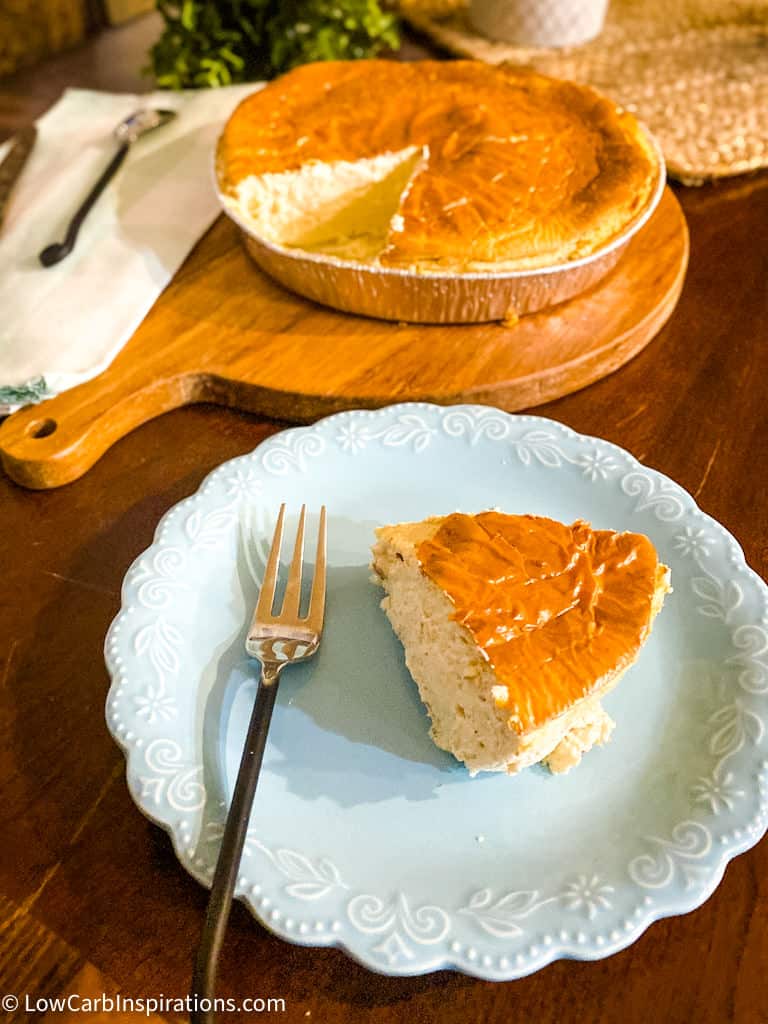 This is what the vanilla bean powder looks like in the jar.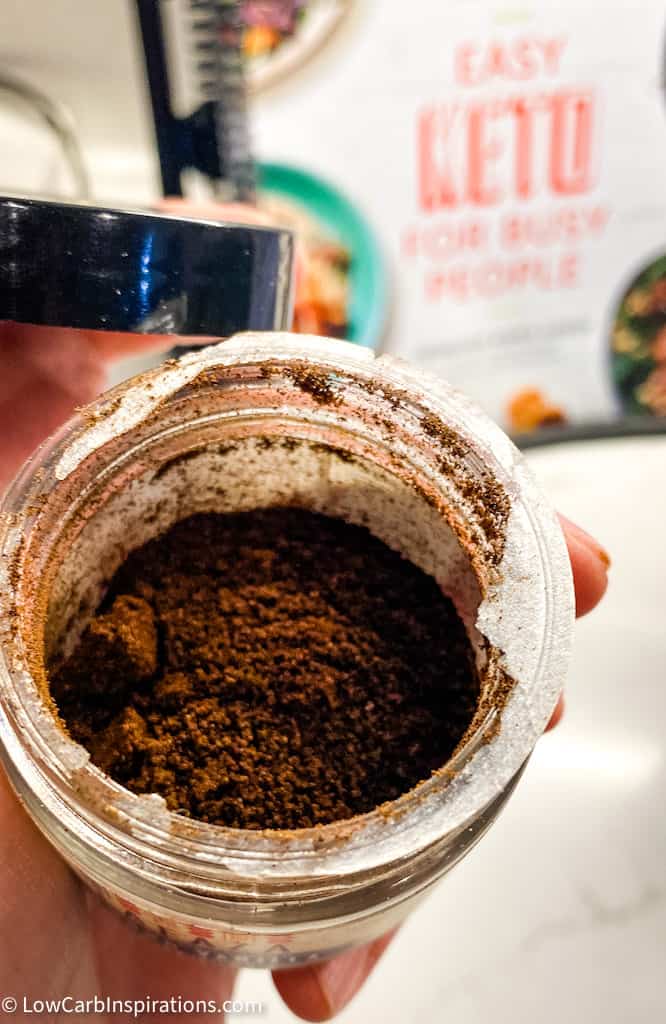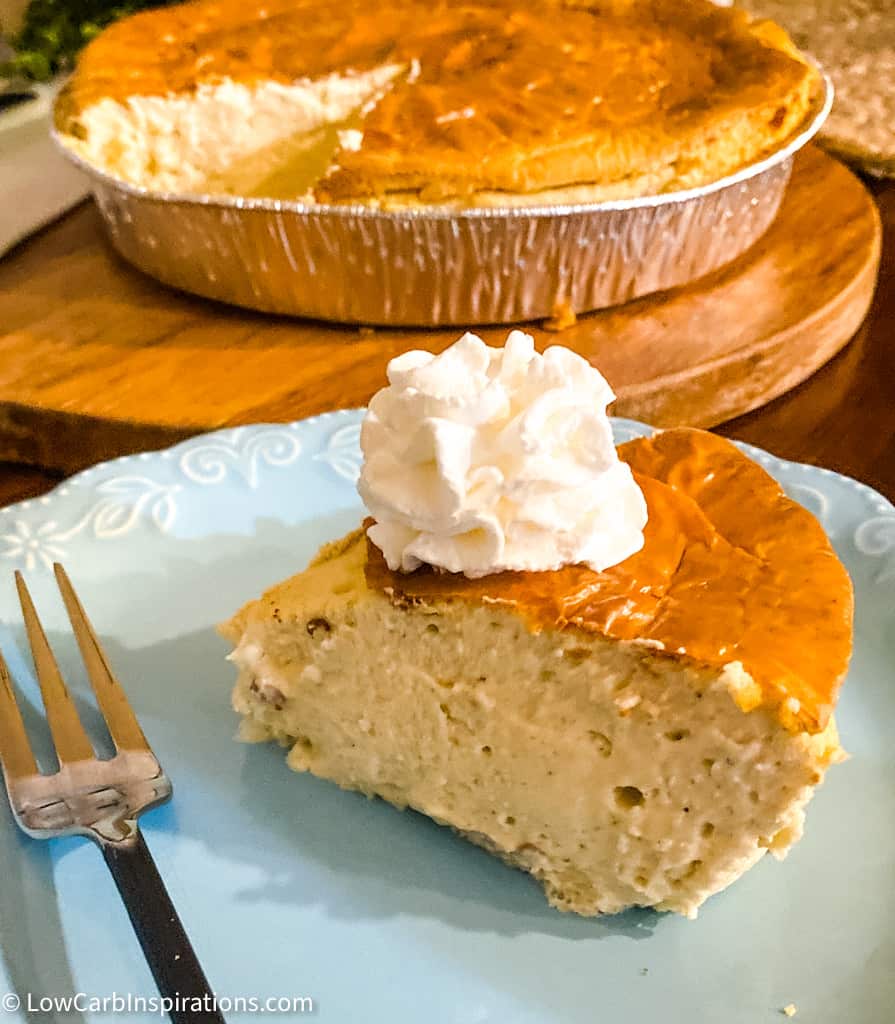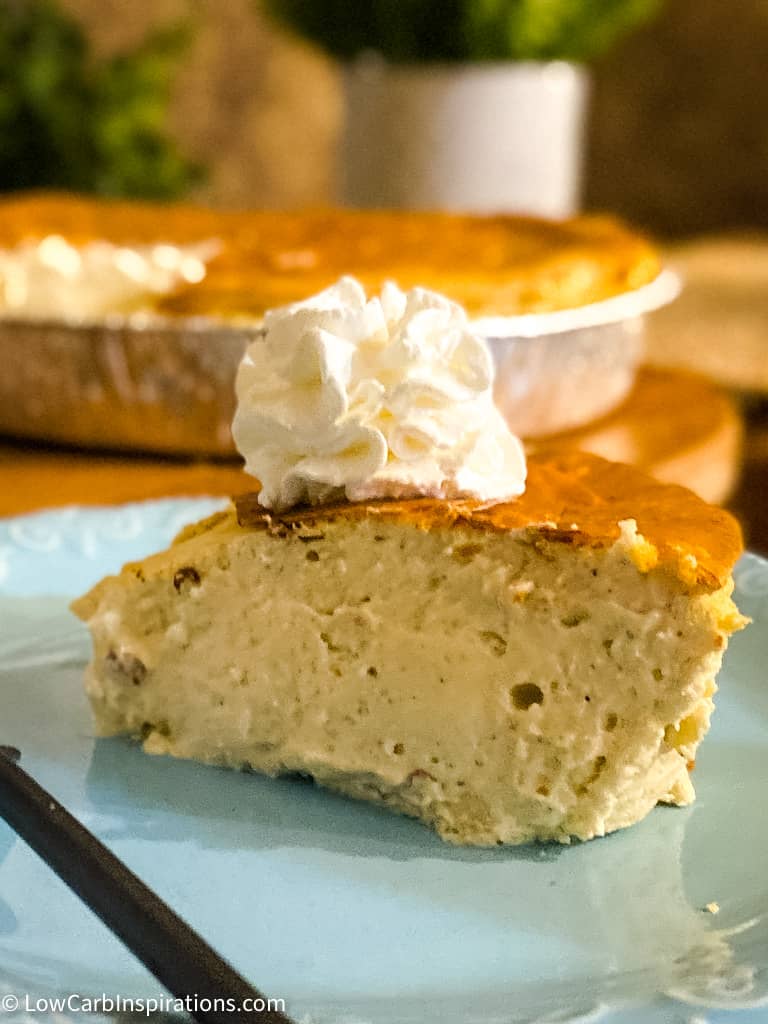 LOOKING FOR EASY AIR FRYER RECIPES? YOU GOT IT!!!
In this book, we've collected some of our favorite air fryer recipes that are both delicious and healthy. From main dishes to snacks and desserts, we've got something for everyone.

Some of our mouth-watering recipes include:
Egg Toast with Bacon
Buffalo Cauliflower Bites
Meatball Casserole
Crispy Buffalo Wings
Sugar Free Vanilla Cheesecake
Each recipe is straightforward and easy to follow, even if you're a beginner air fryer.
Get the Easy Air Fryer Recipes eCookbook today and say 'hello' to a new way to enjoy your meals!!
Printable Keto Cheesecake Recipe Card:
If you need help starting keto, check out our shop!! We have a starter course along with plenty of other resources including cookbooks, journals, meal plans and fun gift ideas too!