Keto Taco in a Bag with Quest Chips!
I love making Keto Taco in a Bag with Quest Chips especially on Taco Tuesdays!
I used to make taco in a bag all the time before my low carb and keto days. I used to use Doritos and I remember how much my whole family enjoyed this simple technique. When I started Keto I swore that we would still enjoy some of the same recipes we used to before I non keto days and this recipe is a perfect example of me holding true to my word!
Thank goodness Quest makes delicious chips! They are super crunchy and high in protein and low in carbohydrates. Total win-win for this recipe and our low carb lifestyle!
Here's a quick tip for you. You can use the pre-made taco seasoning mix is you are in a big hurry. Or you can make your own Homemade Taco Seasoning recipe too. Just watch for the sugar and other ingredients in the pre-made seasoning mix when purchasing it.
Keto Taco in a Bag Ingredients:
1 lb ground beef
Homemade Taco Seasoning Recipe or store bought
Quest Chips
Sour Cream
Shredded Cheese
Shredded Lettuce
Tomatoes, diced
Cilantro
Onion, diced
Keto Taco in a Big Recipe Instructions:
Brown the ground beef.
Add the homemade taco seasoning or a packet of the store bought taco seasoning along with a 1/4 cup of water.
Prep the vegetables.
Prepare a serving bar with all the ingredients where your guests can serve up their tacos.
Each guest will grab a bag of Quest chips and open the bag.
Top your chips with taco meat and any of the toppings you choose.
Enjoy!
Here are a few photos of our Keto Taco in a Bag with Quest Chips we had for dinner on Taco Tuesday!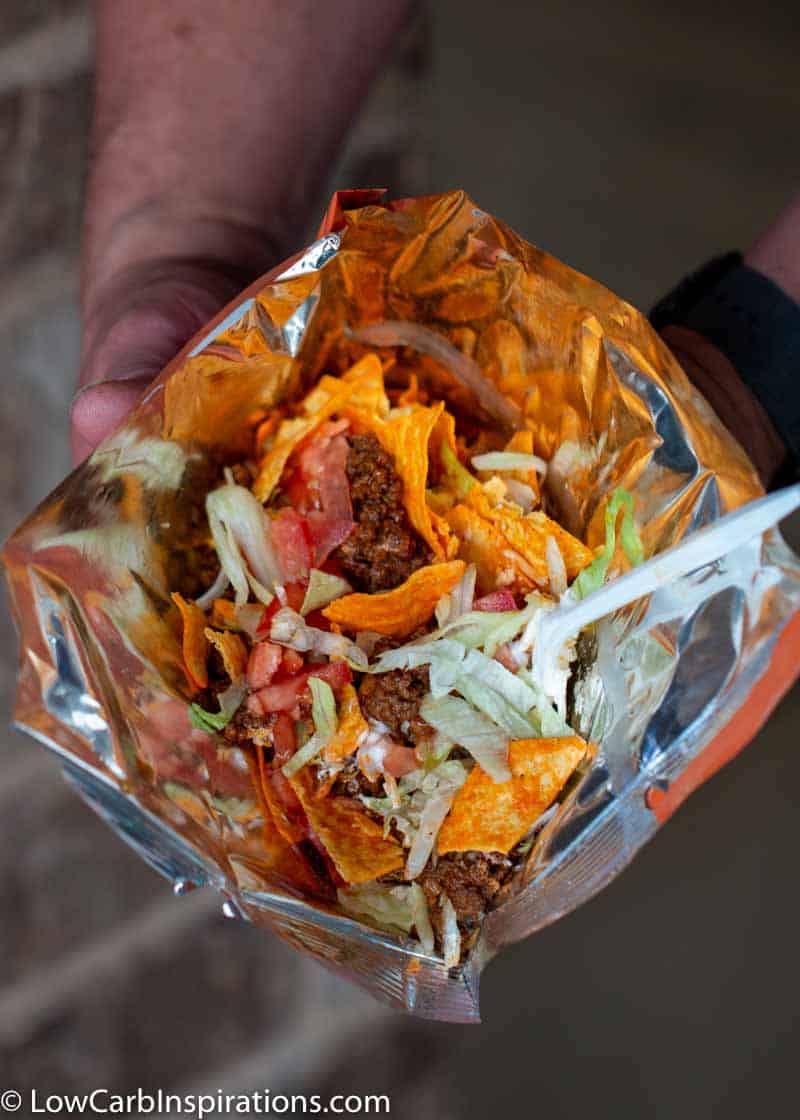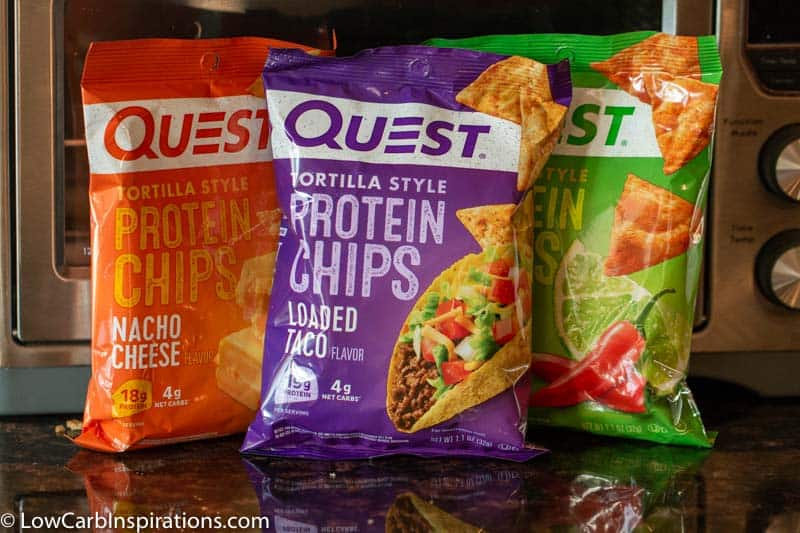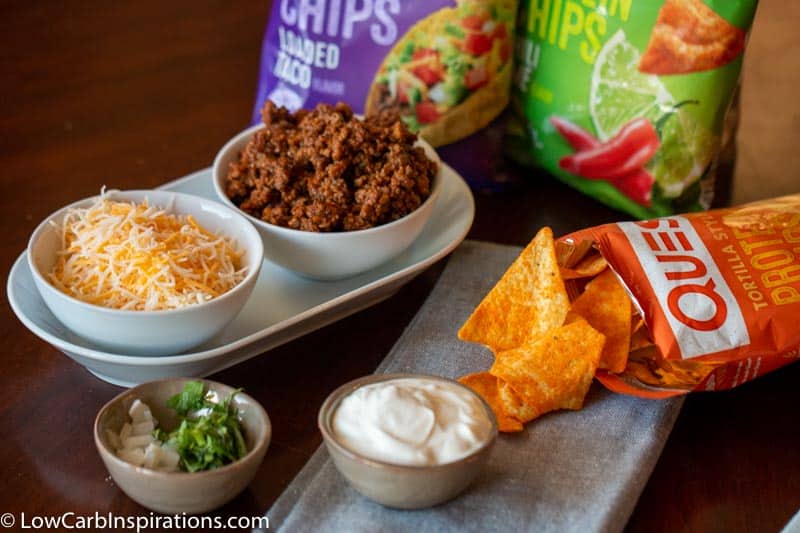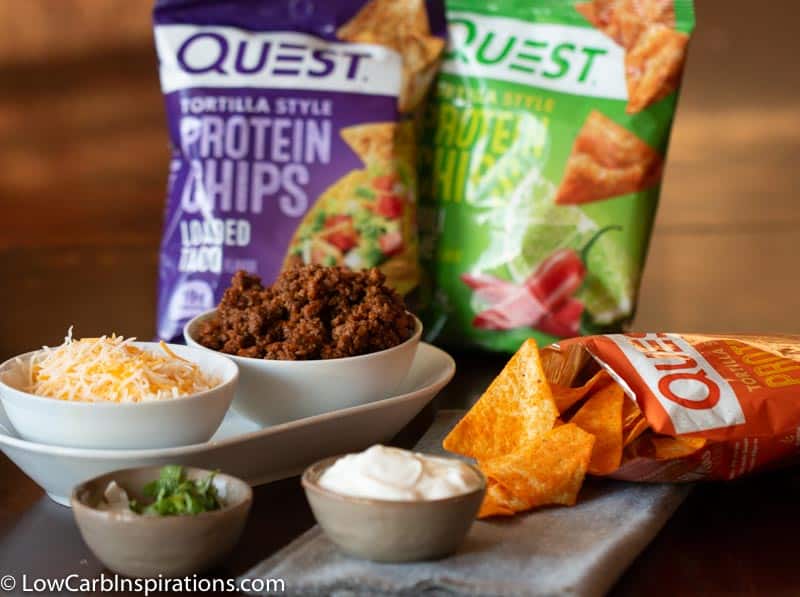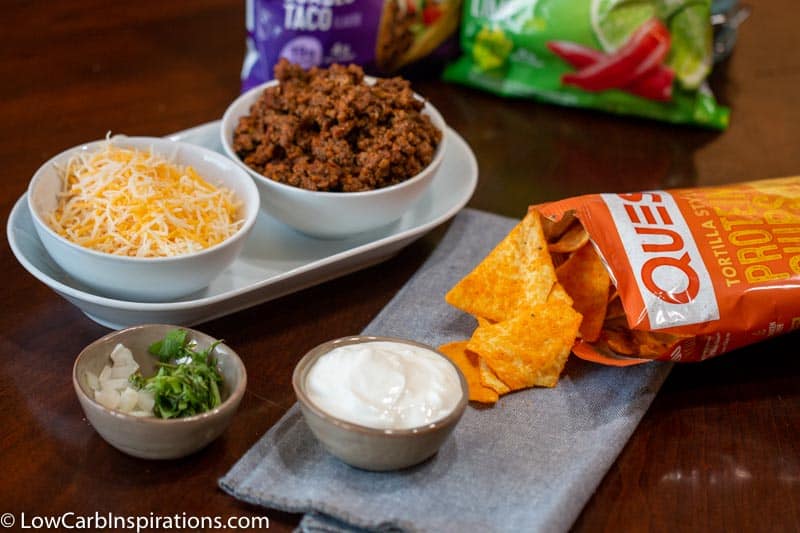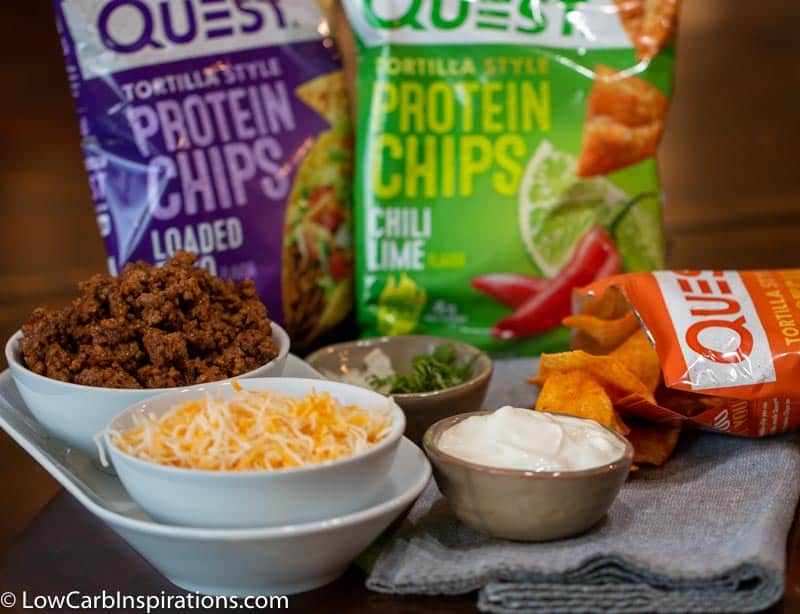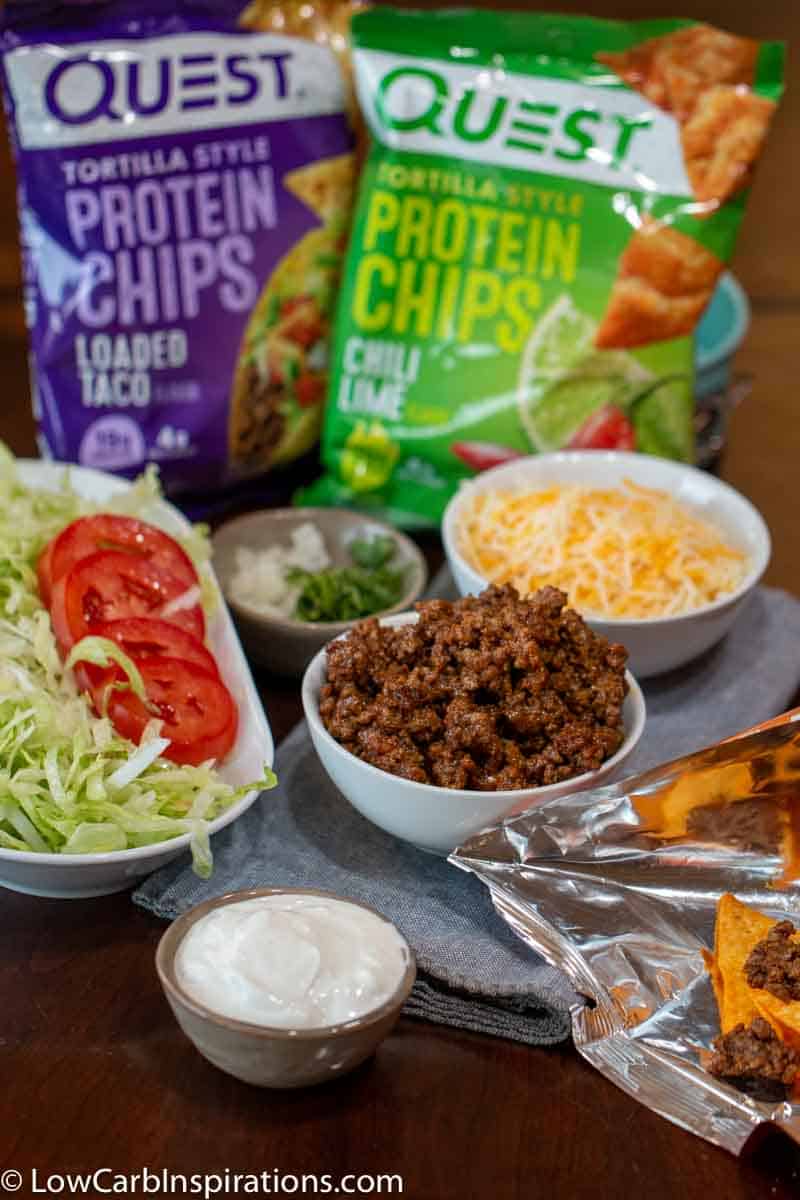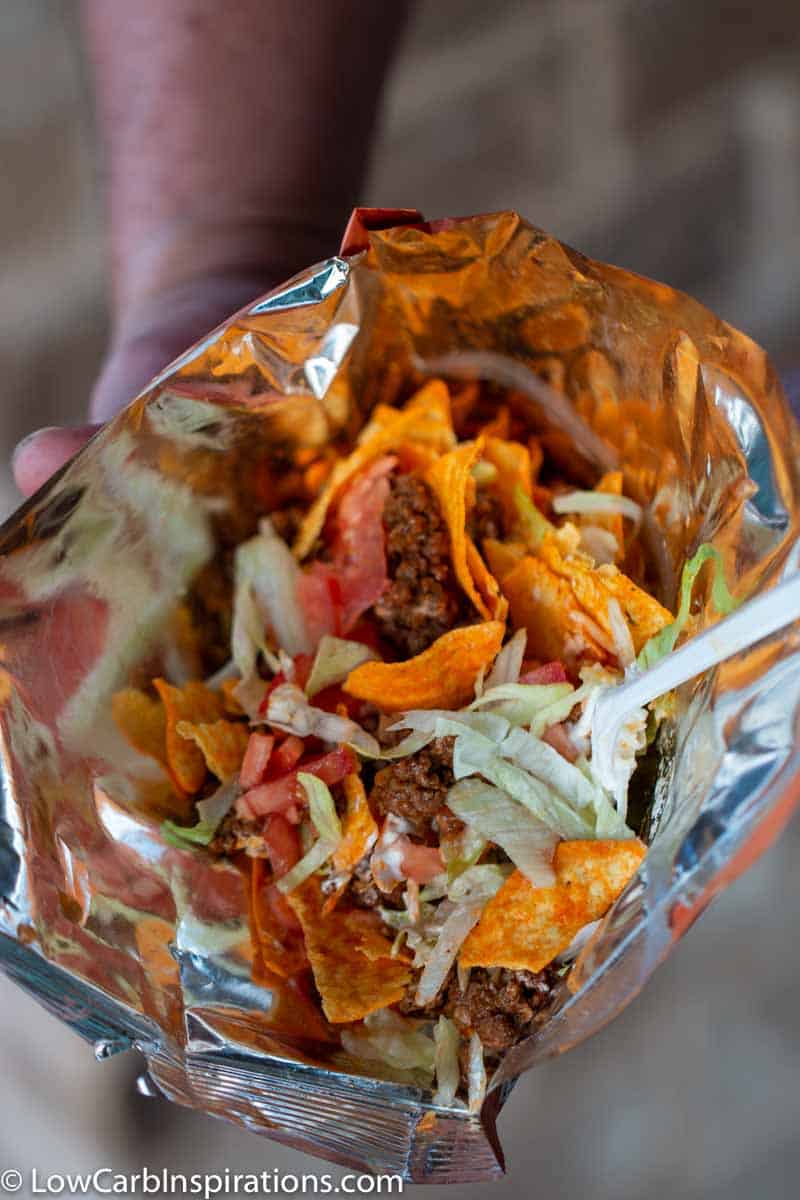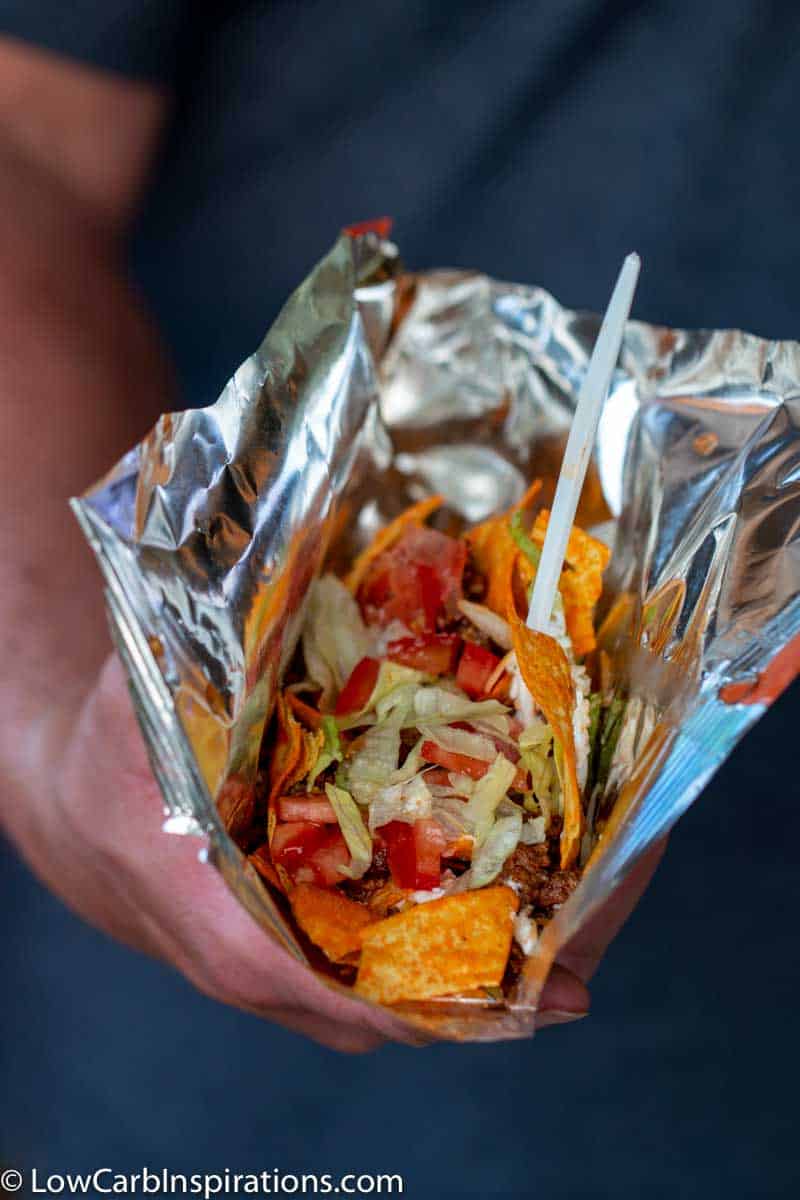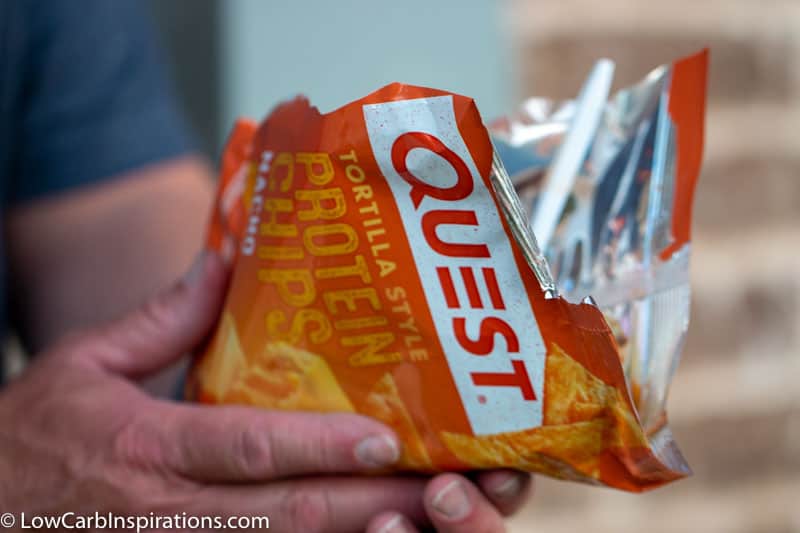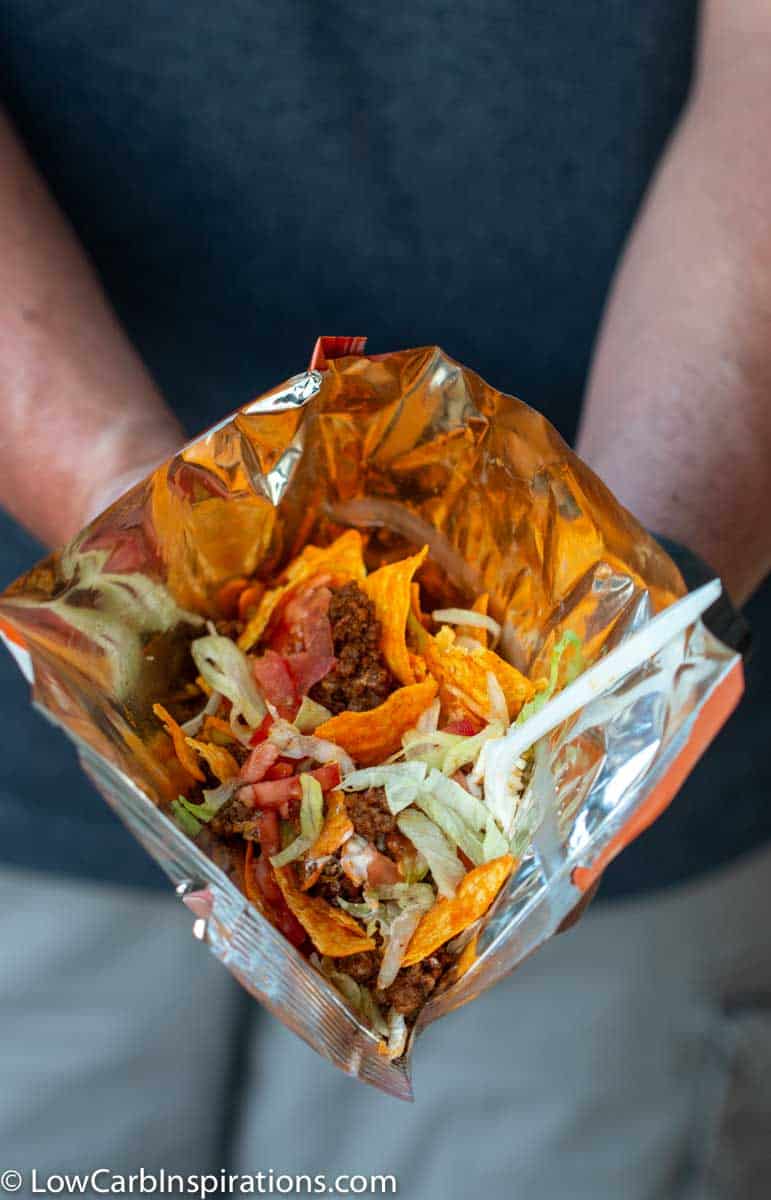 Frequently Asked Questions about Keto Taco in a Bag recipe:
Is this taco in a bag recipe healthy?
Yes! This is the lowest carb taco in a bag recipe you will find!
What is taco in a bag?
This is a super convenient way to eat tacos! You basically add all of you toppings to a bag of keto friendly chips and eat it with a fork! Some people even call these walking tacos!
How to Make Taco in a bag with Quest chips?
This recipe above shows you step by step how we made our Keto Taco in a bag recipe and we have all the photos included too!
How much does taco in a bag cost?
This will depend on how much the Quest chips cost you. You can by your favorite flavor of Quest chips by the case to make it cheaper.
How many calories does Keto Taco in a Bag have?
This will depend on many different factors. Did you use the homemade taco seasoning recipe we linked above or the store bought taco seasoning? Did you add all the toppings or just a few? The best way to determine the calories and macros for your specific taco would be to add the ingredients to a food tracker such as Carb Manager or another food tracker app like this.
How much meat for a Keto taco in a bag?
This will totally depend on you! I usually add about 2 or 3 tablespoons of seasoned ground beef to my Keto Taco in a bag.
Where did taco in a bag originate from?
The first place I saw it was at a festival. I'm not 100% sure who started this taco trend.
Which flavor of Quest chips is best for a Keto Taco in a Bag?
This will totally depend on your tastes! I really like the Quest Chips Loaded Taco flavor myself.
Do I have to use Quest Chips or can I use another brand?
There are a few more keto friendly chips options but it will depend on if you like the taste and texture of the chips they offer. I do know there is another brand called Protein Puffs but I haven't personally tried them yet. If you've tried them, please let me know how they are in the comments! I would love an opinion.
Don't forget to pin it on Pinterest for later!