Keto Products at Thrive Market
Keto Products at Thrive Market
The last live video I did with Dr. Boz was about Keto products! It was perfect timing as I just placed my order for Keto Products at Thrive Market!
What is Thrive Market?
Thrive Market is a place to get highly discounted prices on organic foods and keto products! I've said if Whole Foods and Costco had a baby it would be called Thrive Market!
How much can you save at Thrive Market?
Thrive Market prices are already pretty low when you compare it to Amazon.com or your local grocery store. I recently reached out to Thrive Market and they offered to give our readers an extra special discount just so you can see for yourself how much money you can save on the Keto and Low Carb products you love!
Thrive Market is offering up a free 30-day membership and an extra 25% off their already low prices when you sign up by clicking this link: http://www.thrivemarket.com/lowcarbinspirations
Tip: Set your calendar alarm for 30 days out just in case you want to stop the membership. I am so impressed that I plan to keep it! (Stay tuned for my next video that will show you what I ordered this week!)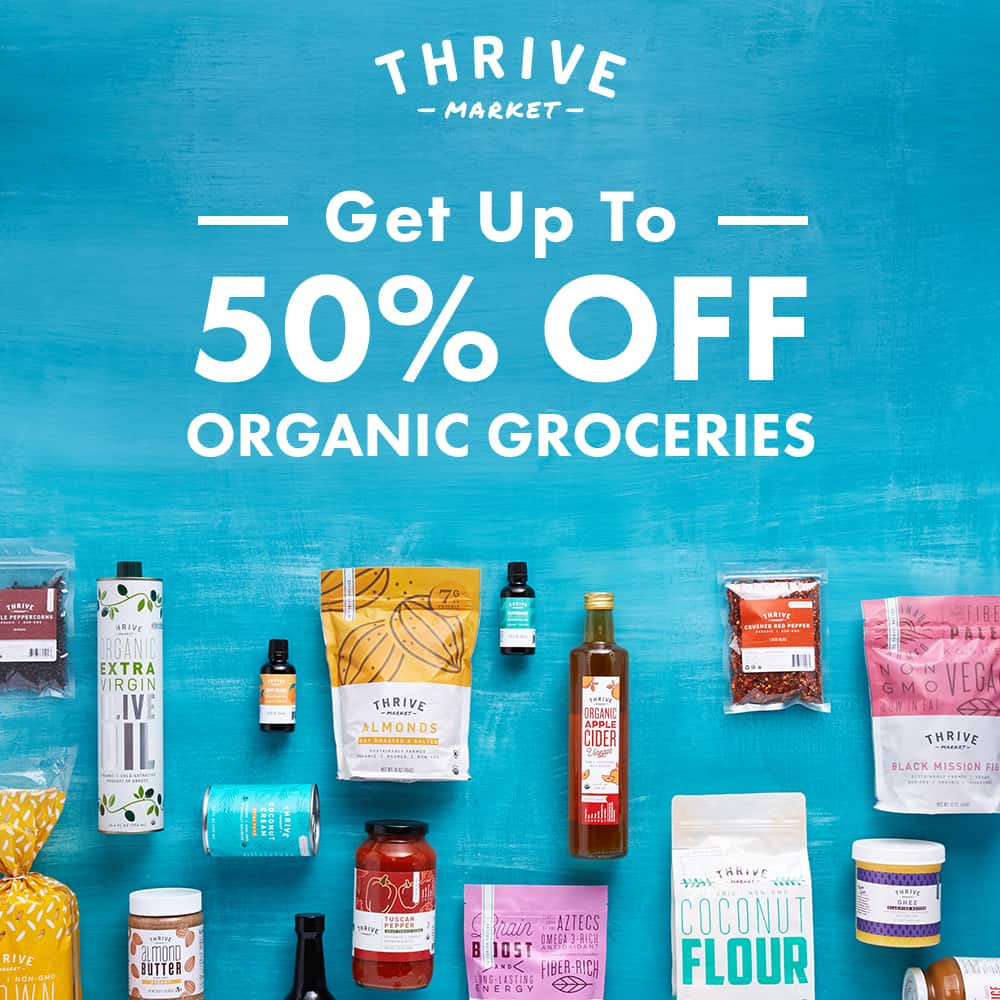 The 3 Stages of Keto
In this video, we also talked a bit about the 3 stages of keto! You start off as a beginner but you quickly move to intermediate and advanced once you get the food choices down and you are in ketosis! Remember, ketosis is what happens to your body in the absence of sugar and limiting carbs. Different carb limits are different for each person. I've seen people get into ketosis at 20 grams of carbs per day and I've seen others do it at under 100 grams of carbs per day. You have to find what limit works best for your body. Not only that, the quality of your carbs really does make a difference too.
Stage 1 of Keto
Don't worry about the calculation of your macronutrients yet. You need to focus on limiting the carbs to only carbs from seasonings and vegetables.
You also need to completely cut sugar from your diet. This is hard. I know this is hard. You will need to make the decision to do it. It takes 3 full days to stop the cravings before you feel like this is a possibility! I wished someone would have told me that the first 3 days of sugar detox will be the hardest because it's way easier to see an end in sight when it's a really hard task. 3 days!
You can do it! Your health depends on it!
I also feel as though stage 1 also includes you trying to remake every version of every recipe you love into a keto version of the same thing. I know because I did just that! I made Keto Breads, Keto Noodles, Keto Desserts and so much more! Go ahead, have fun with recipe variations because it's very important that you don't feel deprived during this stage.
The average person consumes over 250 grams of carbs per day! PER DAY! By cutting the carbs and sugar, even without tracking, you will be successful because you are coming from eating 250 grams of carbs in a day! I think this is why they call this stage the Lazy Keto way. It still works because of where you came from!
Stage 2 of Keto
This is the stage where you've lost a good amount of weight by just changing the foods you eat. You might have come upon a weight loss stall on the Ketogenic Diet or you might just want to get really strict since you now know this works and it's doable! In this article titled Simple Way to Start the Ketogenic Diet, we talk about how to calculate your macros to help you get to your goals.
Stage 3 of Keto
This is the stage where you have your macronutrients down. You know exactly what to eat and what not to eat. You are probably tracking your progress. You are probably even testing your ketones and glucose numbers via a blood glucose meter which is exactly what I advice during this stage.
We recommend two different meters that track both blood glucose and ketones in the same machine:
In this stage you might be thinking (or asking) of any one of these things:
How to tighten loose skin from weight loss
How to overcome a weight loss stall
How to lower my morning fasting glucose numbers
How to increase my ketone readings
How to calculate my ketone and glucose ratio to make sure I am in a weight loss zone.
How to regrow hair I lost during the first stages of keto.
Should I start intermittent fasting?
How is fasting beneficial to weight loss?
Should I start exercising?
What happens if I cheat on the keto diet and how do I overcome it?
What foods could be causing me to stall on the keto diet?
Do I have food or dairy sensitivity?
Have my cholesterol numbers improved since starting keto? Be sure to watch this replay: Cholesterol and Keto Everything you need to know
You can watch all the video replays here: Keto Diet Intermittent Fasting for Weight Loss
Watch the Thrive Market Unboxing and stages of keto talk here:
Thrive Market is offering up a free 30-day membership and an extra 25% off their already low prices when you sign up by clicking this link:
http://www.thrivemarket.com/lowcarbinspirations