This new Keto Pumpkin Bread Cake Recipe is going to be one you'll want to make over and over!
As some of you know, I LOVE mug cakes. I know lots of you loved the Keto S'mores Mug Cake recipe we just made.  Mug cakes are a quick, easy and delicious for a nice after dinner treat. Trust me, I have a running list of all the different flavors of mug cakes I've tried or new ideas. It's just too hard NOT to make a simple 90-second Keto mug cake.
Well, I recently bought an air fryer. Yup, I finally jumped on that bandwagon and let me tell you guys- TOTALLY WORTH IT! I love it. One thing I hadn't tried yet, was some sort of Keto/Low Carb cake in it. Now, I'm kicking myself for not have experimented sooner.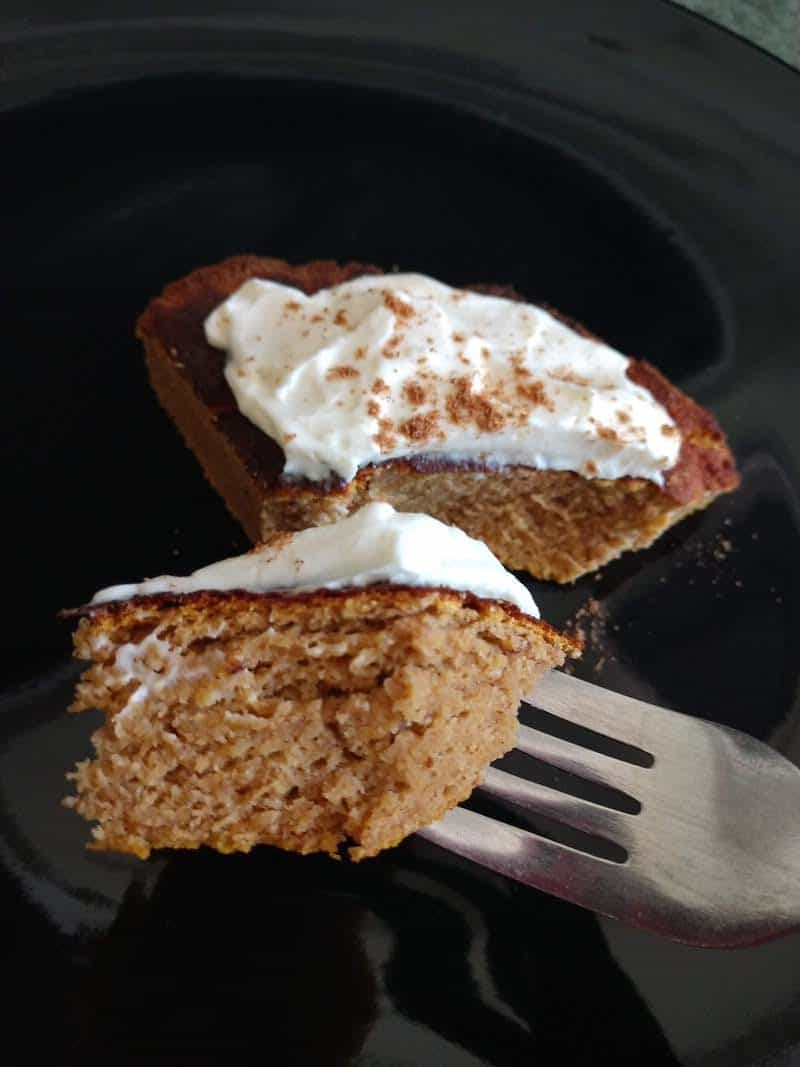 My husband is Low Carb and I am thankful that he is willing to be my guinea pig for all of my experiments. He has always loved my cooking (long before this lifestyle) and has exclaimed how even more exciting it is now. Both of us discuss often how amazing it is to be "on a diet" and still eating just fantastic food! Since we've kicked off the fall baking season, I am definitely having fun in the kitchen with pumpkin and spices. If you haven't seen it already, check out my Homemade Pumpkin Spice Blend Recipe.
I created this recipe using my air fryer, but you can absolutely bake this in the oven as well. I would check at halfway, see if it's starting to brown. If so, add foil over top for the rest of baking, so it doesn't burn.
Having the right size pan for your air fryer is a must! I used a 7 inch cake pan for this recipe.
Baking it in the air fryer, gave it a nice crispy crust on top. This is a "smush" of a pumpkin bread and a lovely cake. It is dense but still moist and yummy! I highly recommend making an additional cream cheese frosting for the topping!
Simple Keto Cream Cheese Frosting Recipe
1 oz. cream cheese
1 tbs Swerve, confectioners
1/8th tsp vanilla
Directions:  Mix all ingredients with a mixer until creamy.
Note:  Play around with different flavored extracts. You might be pleasantly surprised at just how good some flavor combinations can taste! I have also found a new love for Honest syrups by ChocZero.
Here's how we made this Keto Pumpkin Bread Cake Recipe:
Start with the wet ingredients in your mixing bowl.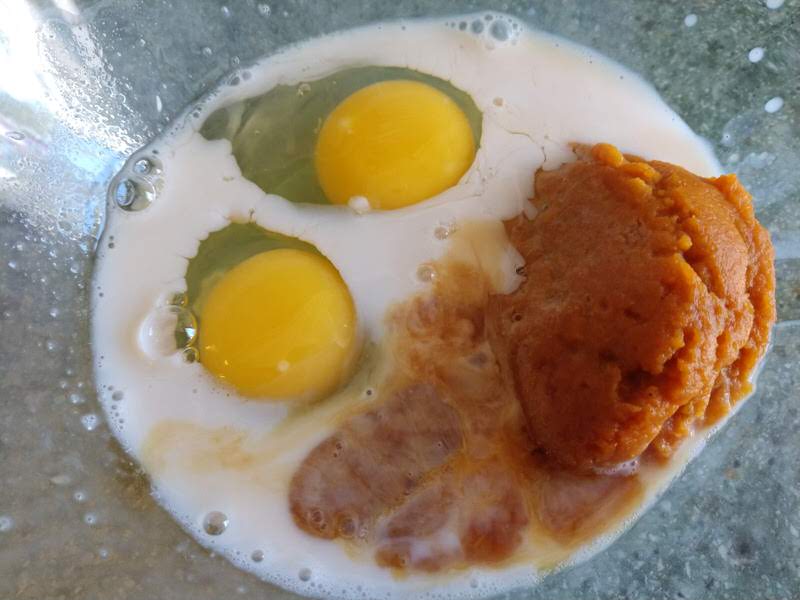 Mix well, making sure there aren't any clumps.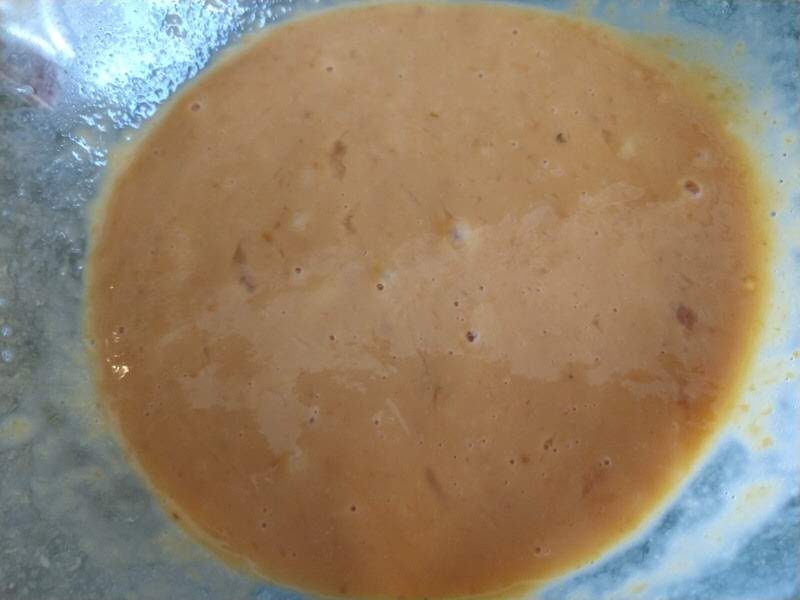 Then, add in the dry ingredients.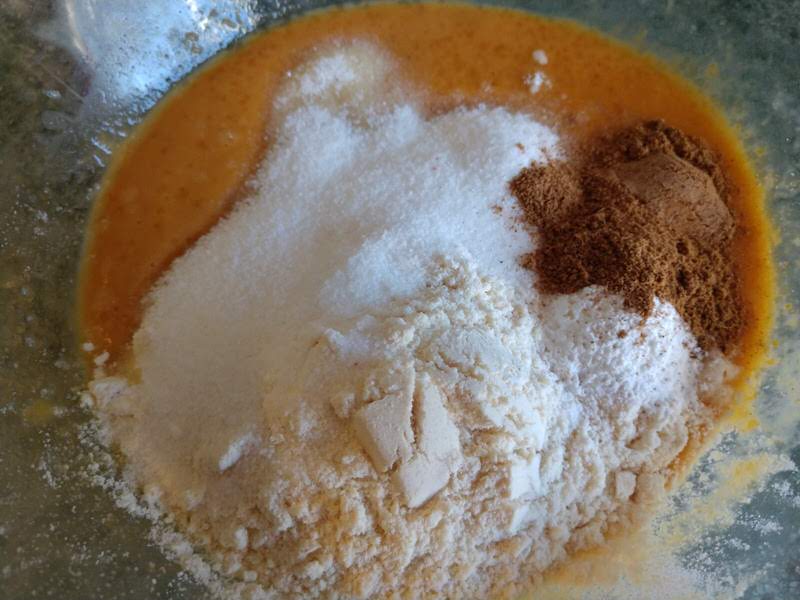 It will look like this!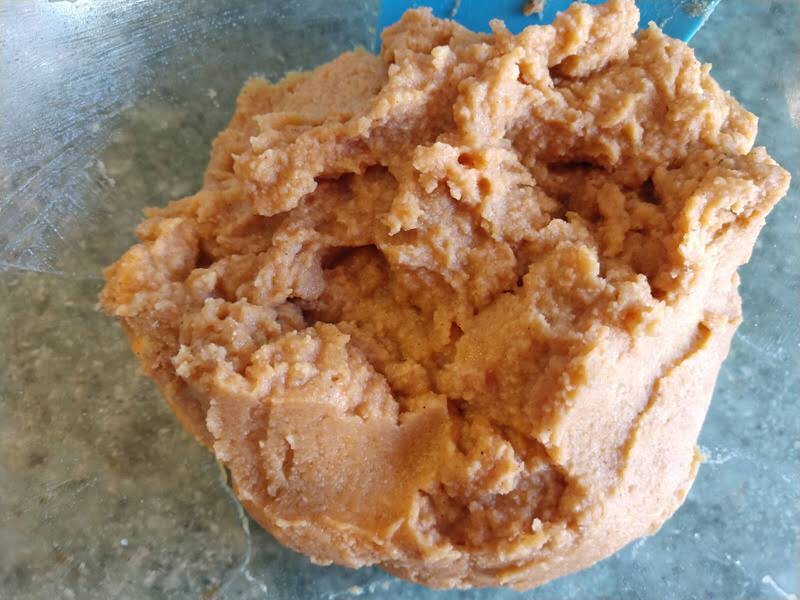 Spread it evenly into the pan.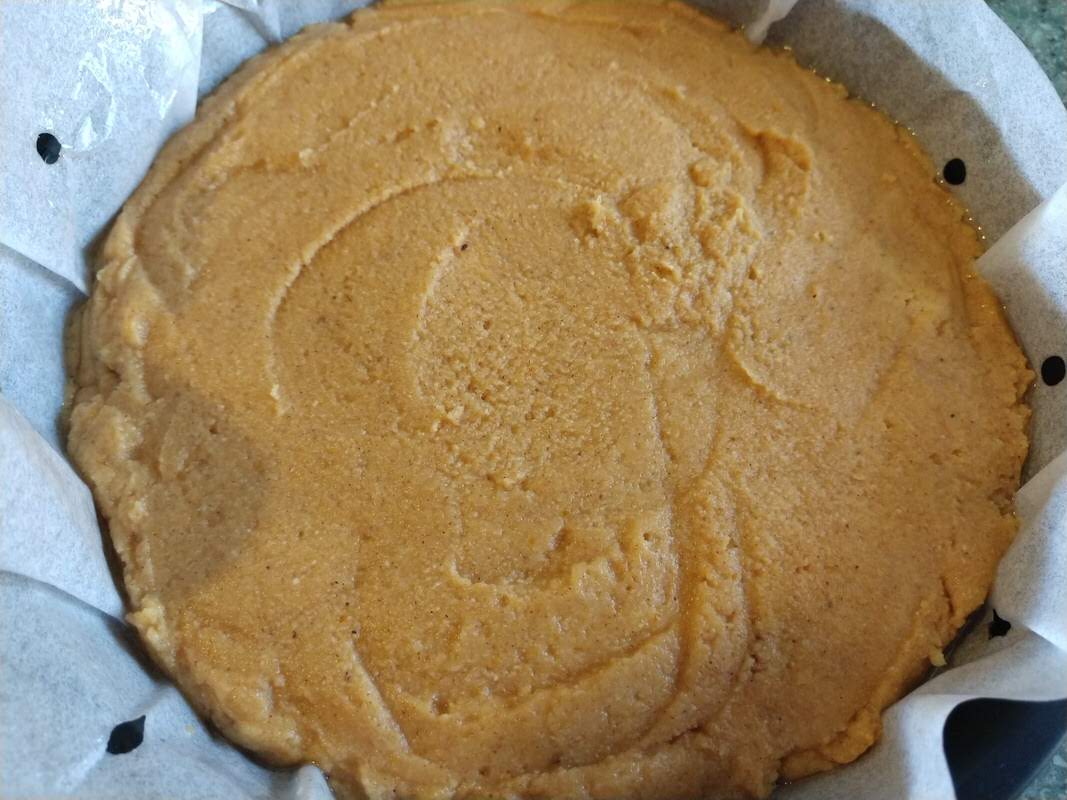 Bake in your air fryer (or oven) for 25 minutes.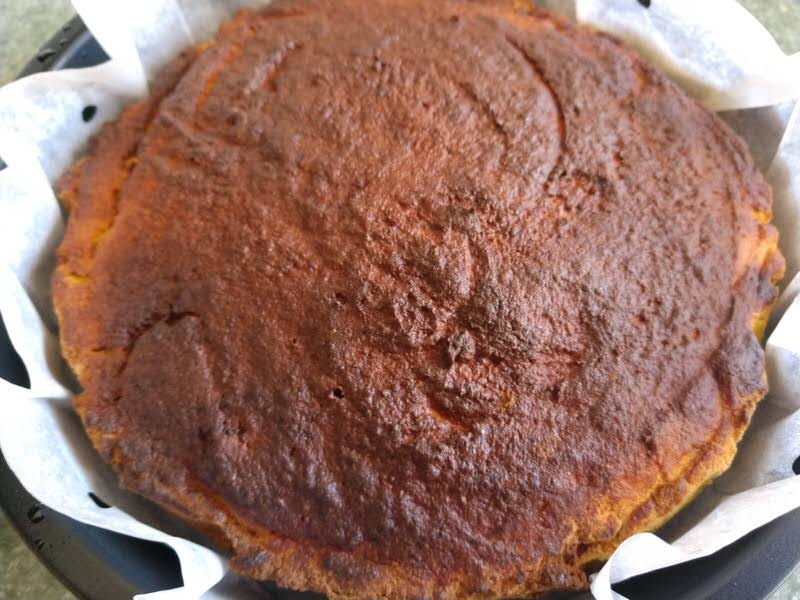 Look at that crust!! Slice it and serve it! Eat as is, or add some cream cheese frosting.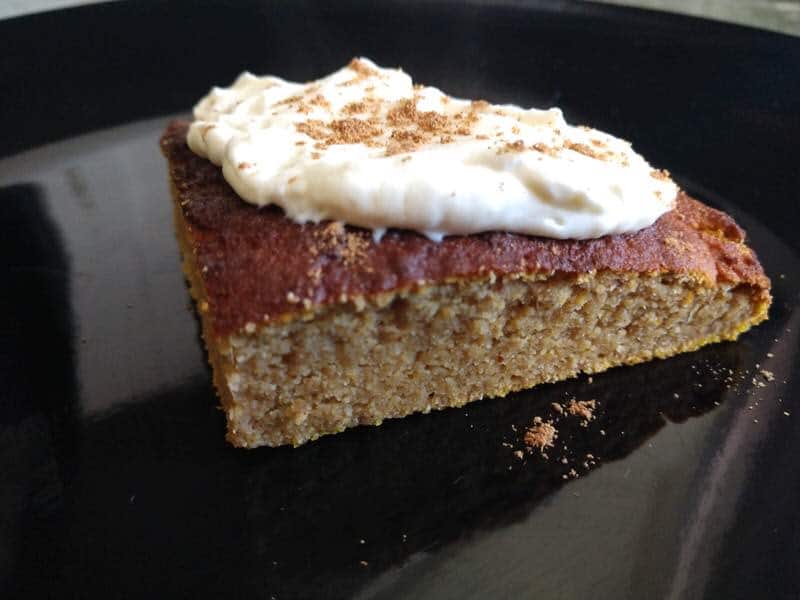 Ahhhhhh yeeeeeah….. Such a delicious bite!
Keto Pumpkin Bread Cake Recipe
Makes: 4 servings – 7″ cake in the Air Fryer
Keto Pumpkin Bread Cake Recipe Ingredients
Keto Pumpkin Bread Cake Recipe Directions
Oven Method
In a large mixing bowl- add pumpkin, almond milk, 2 eggs, and vanilla extract.
Whisk these ingredients until fully incorporated.
Add the rest of ingredients and mix until blended.
Preheat to 350 degrees.
Line small pan with parchment paper.
Spray non-stick spray.
Spread batter out evenly then put it in the oven.
Bake for 20 minutes, check if baked through
Air Fryer Method
In a large mixing bowl- add pumpkin, almond milk, 2 eggs, and vanilla extract.
Whisk these ingredients until fully incorporated.
Add the rest of ingredients and mix until blended.
Line the 7" cake pan (for Air Fryer) with a parchment round, spray non-stick spray.
Spread batter out evenly,
Put the cake pan in Air Fryer.
Set temp to 350, Bake for 25 minutes.
Keto Pumpkin Bread Cake Recipe Nutrition
Nutrition per serving (1/4 slice)
Calories 80, Total C 8g, Fiber 4g, Net C 2g, Fat 3g, Protein 4g
Keto Starter Guide Message from the Creator of the Course
If you are new to the Keto way of life and need a bit more help getting started and understanding exactly how it works, I have news for you! This way of life is not really easy to start off in the beginning.
You can easily get very overwhelmed by the information and, believe it or not, there is so much misinformation out there that you will leave yourself asking what's real and what's not. It can be frustrating and overwhelming at the same time.
I started my journey in January of 2017 way before anyone even knew what Keto was!! I've learned every pitfall and made all the mistakes! I only wished I had someone who could have explained it to me to avoid all of those feelings of failure and frustration. Luckily, it didn't make me quit. It almost did. I'm so glad I stuck with it because I got away from the way carbs and sugar had a hold of me. I control it instead of it controlling me like it used to.
If you are starting out, you will find the Keto Starter guide extremely helpful and very valuable! Check it out here: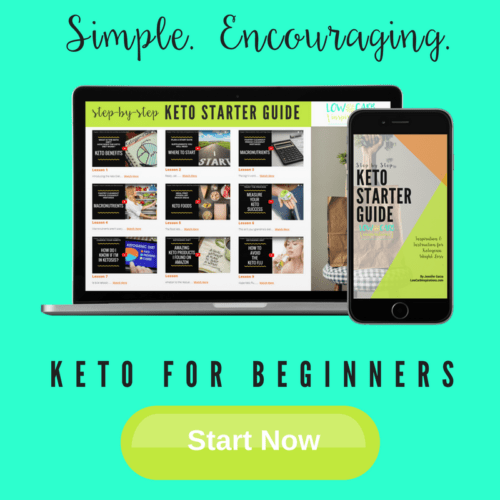 Don't forget to pin this on Pinterest!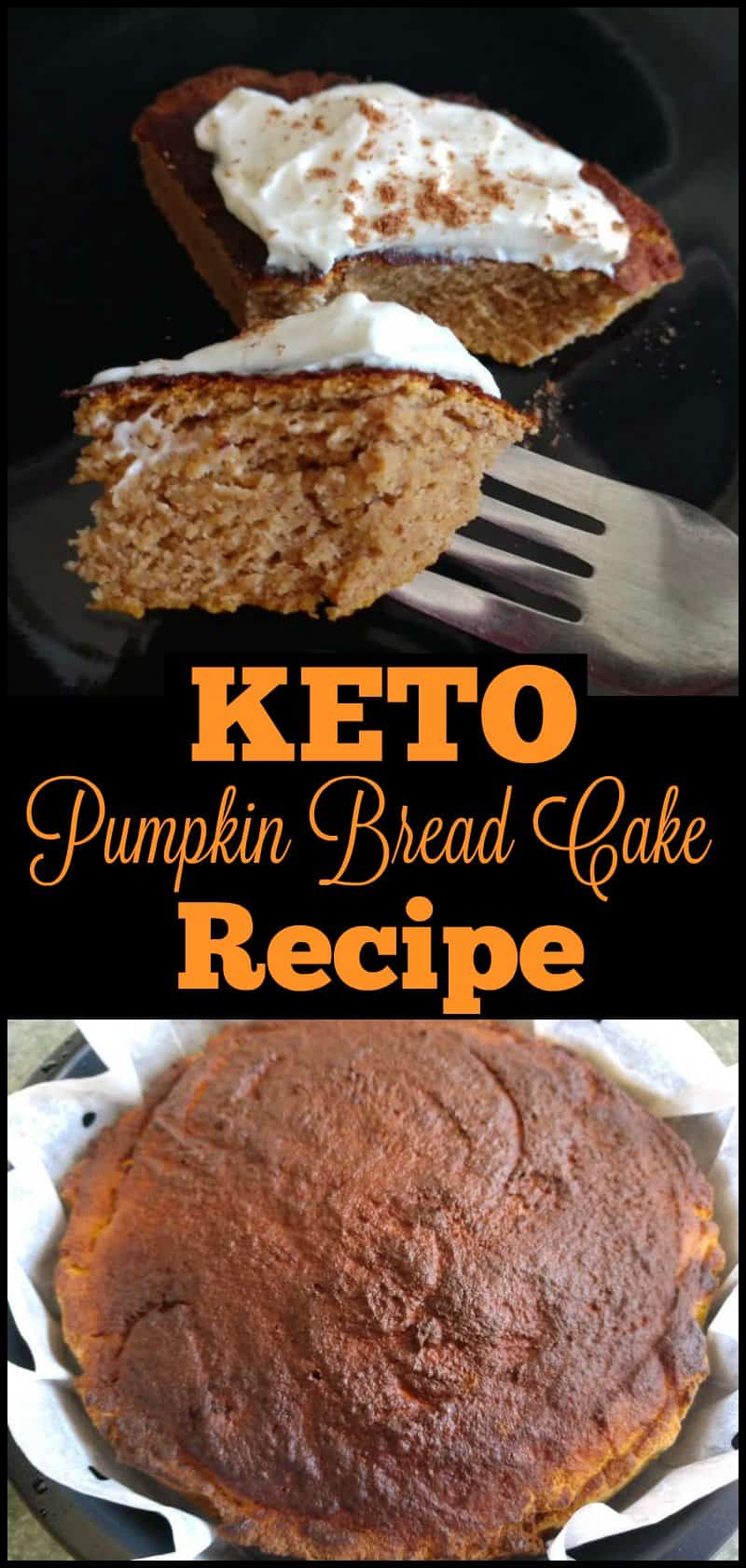 Ingredients
1/4

c.

100% Pure Pumpkin by Great Value

2

tbs

Almond Milk

Unsweetened

2

Large Brown Eggs by Cherry Lane

1

tsp

Vanilla Extract

1/4

c.

Organic Coconut Flour Gluten Free by Arrowhead Mills

1

tsp

Baking Powder

2

tbs

Organic Stevia Blend by Pyure

1

tsp

Pumpkin Pie Spice Mix or Pumpkin Pie Spice

1/8

tsp

Himalayan Pink Salt
Instructions
1.In a large mixing bowl- add pumpkin, almond milk, 2 eggs and vanilla extract.

2.Whisk these ingredients until fully incorporated.

3.Add the rest of ingredients and mix until blended.

4.(For OVEN- Preheat to 350 degrees. Line small pan with parchment paper.)

5.Line the 7" cake pan (for Air Fryer) with a parchment round, spray non-stick spray.

6.Spread batter out evenly, put in Air Fryer.

7.Set temp to 350, Bake for 25 minutes.

8.(For OVEN- Bake for 20 minutes, check if baked through.)
Notes
Nutrition per serving (1/4 slice) Calories 80, Total C 8g, Fiber 4g, Net C 2g, Fat 3g, Protein 4g
Nutrition
Serving:
1
slice
|
Calories:
80
kcal
|
Carbohydrates:
8
g
|
Protein:
4
g
|
Fat:
3
g
|
Fiber:
4
g